HONING THE SIGNATURE PRESENCE OF GLOBAL LEADERS FOR OVER TWO DECADES,
INFUSED WITH EXPERTISE IN INNOVATIVE MARKETING AND COMMUNICATION LEADERSHIP.
This unique combination of expertise, speech writing, content creation, world class hybrid event production and procuring best in class thought leaders, provides a differentiating lens to how I work with executives across all formats of on-stage appearances.

Actions Are Taken On The Strength Of Your Presentation
It could be a conference keynote, interview, panel participation, industry speech, investor roadshow, pitch presentation or internal townhall, you are in a position to inspire and make change happen. Together, you and I would work on the objectives of the communication, which would inform the design of a logical structure for your content that serves you and your audience. We would then focus on your presentation style, one that is right for you to project authentic leadership that connects with your audience, through which your objectives can be delivered. For an audience to connect with your content, they first need to connect with you.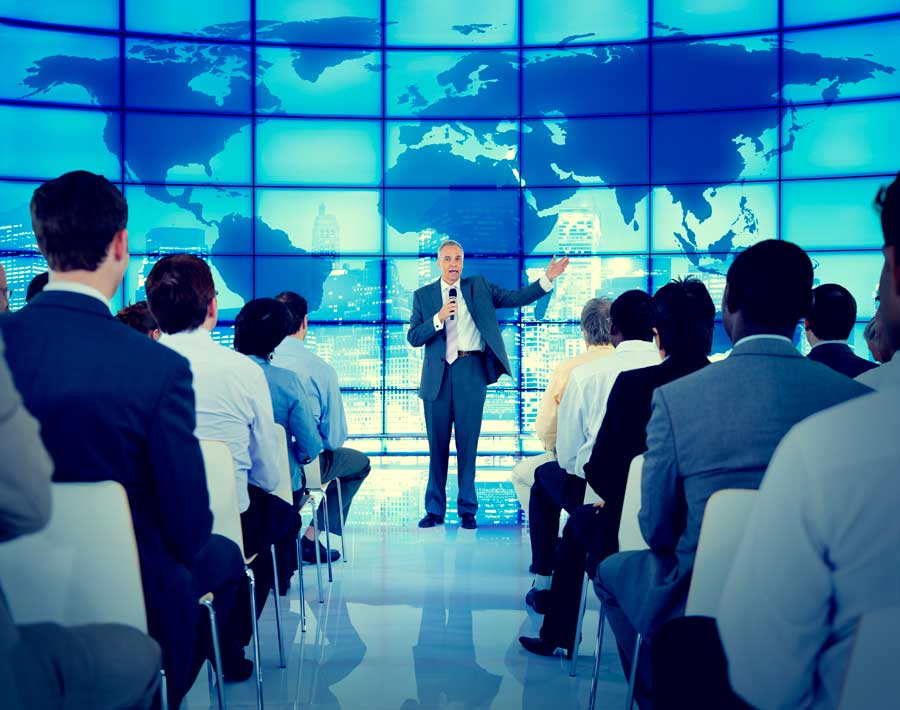 Master Your Own Style To
Master The Stage
This is where my bespoke and expert coaching makes a unique difference. The psychology of presenting, your self-talk, can be remastered using a tailored blend of techniques allowing your inner game to serve you rather than be your hijacker. Self-mastery on the stage leads to masterful presenting and allows more positive energy to go into the occasion, rather than the anticipation of the event being an all-consuming energy vampire. The most extraordinary leaders I have coached, have become so through investing in themselves and mastering their ability to select different modes of communication and presenting for the occasion at hand. They don't always love doing it, but they have found comfort in mastering their signature style. When we can trust ourselves, others will also trust you.

Presentation Impact =
What You Say + How You Say It
Your tone of voice, choice of intonations, varying speeds, pauses, combined with purposeful body language, underpin how your words and content are delivered and received. Add carefully constructed content and clear messages, brought to life with choice words that resonate and evoke emotion with your specific audience, is how your vision turns into positive action. Together we use video replay to review, coach and access your ultimate delivery style that allows this unique and powerful combination to flow. It may also include realising and removing some distracting habits. I will also show you tricks I have developed and are now being used by world class presenters, which you can experiment with and weave into your executive style.  Through a holistic approach to mind, body, voice and content-based executive presentation coaching, you will master the powerful use of your unique verbal and non-verbal languages.
Avoid The Pitfalls
Overwhelming content. No clear messages. Audience agnostic. No time to rehearse. These are just a few of the reasons why opportunities to show leadership, to motivate and inspire a large audience, are missed. My 20 years of experience in coaching senior leaders in investment banks, asset managers, hedge funds, corporations and governments to present with impact, has instilled new attitudes to focus on compelling content that supports key messages. They have fine-tuned their ability to speak to the hearts and minds of their audiences, being prepared for the tricky questions and investing time to rehearse. Our coaching work together will enable all of this to be wrapped into an energised conversational style, that keeps you and your audience relaxed, connected and seduced with your call to action. It's often those that think they don't need presentation coaching who will benefit the most through working with me.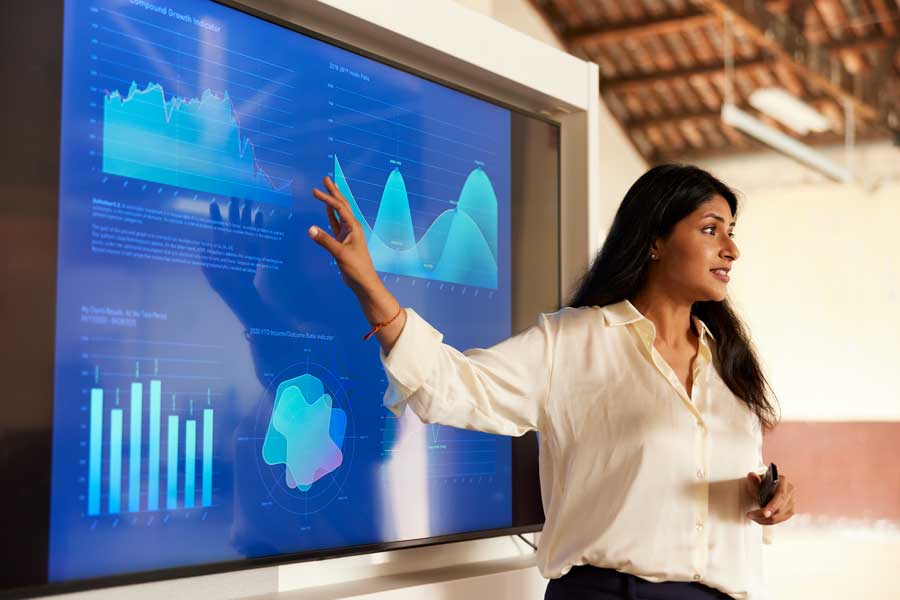 Rehearse Before The Game, Not During The Game
60 minutes of rehearsal for a presentation of 30 minutes x audience of 200, is 1:100 preparation vs leadership impact opportunity. Most would make that investment. My tailored rehearsal coaching sessions ensure that your precious time delivers fast ROI. It can either be one-off, or occasional like for many of my clients, or even regular for those of you on the speaker circuit as part of your high-profile role, with whom I rehearse with and coach before significant appearances. Many executives come-up short by doing their first rehearsal during the live presentation, resulting in sub-optimal performance. Time priorities, conscious avoidance of the uncomfortable and believing a quick read through being enough, are frequent reasons. Through rehearsing together, you will be able to ensure the content is purposeful, you will be admired and your objectives delivered. This is how world class presenters excel, but they don't always admit it!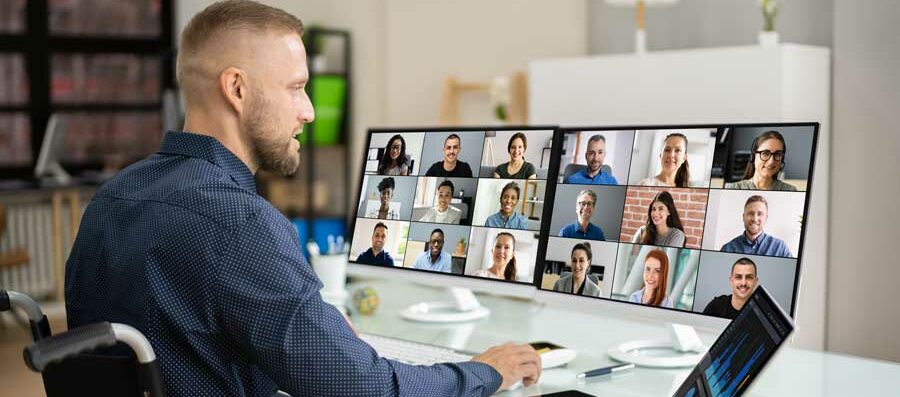 Online Vs Onstage
It's different. Some skills cross-over, but you need to be a master the of the different nuances to engage across the room or through the screen. With thousands of hours of online presentation coaching experience across the globe, I will work with you to identify your online mindset and methods that deliver winning impact consistently. Spoken and subtle facial language becomes more significant than body language on the close-up screen. Learn voice, structure, and content engagement tricks to connect with multi-tasking audiences, and while enjoying more comfort of being in your own environment, don't be the small person on the screen next to the huge slide. Confident, clear, compelling messages and shorter-form content is what you will master during our technical and behavioural coaching sessions. Not forgetting your role as stage director to have camera, mic, lighting and background all working to your advantage.
Together, we work on your self-mastery as a presenter.
Understanding the intent of the occasion, making sure the content, messaging structure,
words and bespoke use of your on-stage voice and body language come together to
deliver on your objectives. With all coaching precisely tailored,
you receive the support you need for accelerated ROI.
WHAT GLOBAL LEADERS SAY ABOUT SIGNATURE PRESENTATION COACHING
I've been presenting for decades and Darryl made me better. He showed me presentation style tricks only experienced professionals in the industry know and I now use these every day with clients, at conferences and TV appearances. He really took me to another level.

EXECUTIVE VP, COMMODITIES ECONOMIST, PhD
PIMCO

Your presentation coaching with me and the team to prepare, engage our clients and deliver complex content ahead of our annual flagship conference, has been invaluable. We now have our own bag of personalised techniques to use across hybrid formats…The requests for business follow-ups have been incredible, in no small part due to you.

HEAD OF CROSS-ASSET QUANT RESEARCH
Societe Generale

Through working with Darryl, I found-out things about myself I never knew were on show. Learning how to manage my tells and re-wire old habits while preparing for a major asset management industry speech, was a leadership skill I wish I had focused on much earlier.

MANAGING DIRECTOR,
GLOBAL MARKETS
BNP Paribas

Over recent years, you have not only written some powerful speeches for me, but also guided and coached me to elevate my delivery style and engage my audiences. Prep and rehearsal time with you has always been time very well spent.

GLOBAL MARKETS
CO-HEAD
Global Investment Bank

The feedback from peers and the business following our programme of presentation coaching, has been quite incredible. For the first time ever, I feel comfortable on the stage, and dare I say, I quite look forward to presenting now.

C-Suite,
Global Clients
ABN AMRO

I'm far more comfortable running trading risk than presenting it. Darryl's supportive style and use of mind-management techniques with practical presentation hacks, has resulted in more client activity being generated from my pitches and workshops than I have ever experienced before. I didn't know I had it in me… Darryl helped me find it.

HEAD OF FRONTIER MARKET TRADING
Societe Generale
Ready To Improve
How You
Connect,
Convince,
Convert?
Please provide your details and
I'll be in touch very shortly.